For local events, please check out our Community Events page. Some of our big annual events include the Annual La Crete Trade Show (last weekend of April), Canada Day Celebrations (July 1) Field of Dreams Stampede Pro Rodeo (first Tuesday & Wednesday of August), Mackenzie County Fall Fair & Tradeshow (weekend after the rodeo), La Crete Fall Fair & Pioneer Day (beginning of September) Get To Know You Night (beginning of September), and Moonlight Madness (first week of December).
---
Buffalo Head Lookout Point
If you want to spend some time hiking on the beautiful blue hills, then this is the place to go to. But, a small car may not take you there, so it is best to go with a truck or a SUV that has 4×4. Located 35km (about 30 minutes) southwest of La Crete, the Buffalo Head Lookout Point offers extravagant views, picnic tables & fire pits, washrooms, and hiking trails. After walking down a trail and climbing some steps, you will come to the Lookout point, where you may see many fields, houses and other properties in the distance. It is a truly breath taking view. Please note, it is a Day-Use-Only area, so don't try staying there over night.
Jubilee Park (formerly known as "Hill Park") is a great place to go anytime of year. During the winter months, the hill is used for sledding, snowboarding, etc by many families in the community. People can sit in the beautiful gazebo to put on their skates, and then skate around on the pond once it has been flooded and 
prepared as a skating rink. Paved walking trails surround the park, allowing you to take a walk and see the true beauty of Jubilee Park from every angle.
During the summer months, many children & teens like to go to the Skate Park to skateboard, roller blade or use their scooters on the ramps, half-pipe, grind on rails, and show off their skills. There also are picnic tables & fire pits, a roofed building for when it rains, and washrooms. A volleyball court allows families to play a fun game of volleyball, and children can play on the swings and slide. 
The La Crete Ferry
Located just south of La Crete, at Tompkin's Landing in Northern Alberta, the La Crete Ferry crosses a 680m stretch of the Mighty Peace River.
In 1961 the Tompkins landing road, Secondary Highway 697, was completed and a ferry across the Peace River established, thus allowing access to the Mackenzie Highway, Primary Highway 35. The original Ferry began operations in 1962, with John Gronvall making the first crossing. During one season of operation the ferry would make 18,028 trips across the river.
It continued operations until a new Ferry was built in 1987, which is still being used today. It measures 33.4m in length and 32m wide with a load capacity of 95,000kg. Since 1988, from spring break-up until the river freezes in the fall, the ferry has carried countless numbers of people, vehicles and goods across the Peace River. Each crossing has saved people and businesses valuable time, kilometers and expenses. In the winter, when the ice is thick enough, an ice road is made to allow travelers to save time & cross the river instead of having to drive around High Level to get to La Crete.
"La Crete Ferry Last Run Of The Season" is a Limited Edition print reproduced from an original graphite drawing by Randy Hann. The drawing depicts the La Crete Ferry making a final fall crossing of the Mighty Peace River through ice and fog. You may see it in our visitor centre.

La Crete Mennonite Heritage Village
The La Crete Mennonite Heritage Village is located on 10 acres of land homesteaded by Henry H.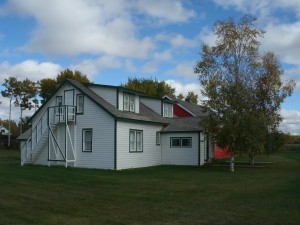 Peters in 1950. Mr. Peters owned the property until 1991 when it was purchased by the La Crete Agricultural Society for the purpose of creating a museum.The Heritage Village contains some of the original homestead buildings as well as buildings moved in from all around La Crete. Eleven historic buildings were moved to the site in the years 1992 – 2011. The former Tompkins Landing Ferry was also moved onto the property. The museum village has grown considerably from its inception. 
The Mighty Peace River & Atlas Landing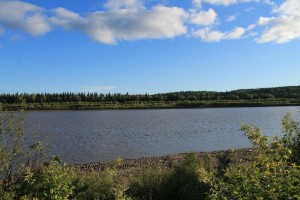 Whether you're looking for a place to go kayaking, boating or just seeking a spectacular view, you have to go to Atlas Landing (about 20 minutes west of La Crete) or to the La Crete (Tompkins) Ferry Landing. Guaranteed to "knock your socks off", the Mighty Peace River offers scenic views, beautiful sunsets and an abundance of nature all around you. 
The drive down to the La Crete Ferry Landing & La Crete Ferry Campground is a fantastic view also. Beautiful skies, rolling hills and endless trees make the long drive to get to La Crete worth it. Check out the video below of two visitors kayaking along the Mighty Peace River.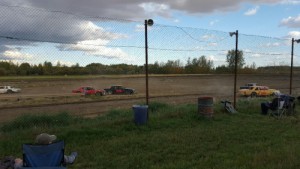 In La Crete during the summer & looking for some racing action? Then make sure you check out Penner Speedway! With an average of 10 cars participating to race for the win around the oval track, there's sure to be times of edge of the seat suspense as well as laughter.
…
Tourangeau (Jake's) Lake Walking Trail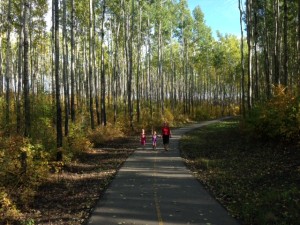 This walking trail is absolutely stunning in all seasons. Located on the Northwest side of town, it takes you winding through trees, allowing you to really adsorb the stunning beauty all around you. At the end you find Tourangeau Lake, a place to sit and relax, watching the many critters that live in the lake find food, build their homes, or soar through the sky. A total of 3km, it's a great place for a casual stroll or for your daily workout, whether you're jogging, biking or rollerblading.