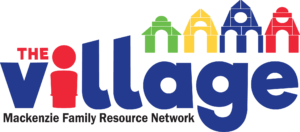 The Village (Mackenzie Family Resource Network)
The Village (Mackenzie Family Resource Network)
Phone: High Level: 780.926.4668
Phone: La Crete: 780.841.8442
10013-101 Avenue
La Crete, AB
T0H 2H0

The Mackenzie Family Resource Network encompasses the four main service areas of High Level, La Crete, Fort Vermilion and Rainbow Lake.
*Physical Location in High Level & La Crete.

Mackenzie Family Resource Network (MFRN) focuses on prevention and early intervention services for families and youth aged prenatal to 18 years. Funded by the Alberta's Ministry of Children's Services, the MFRN believes that as long as a child is safe, they can achieve their greatest potential within their family unit.
The MFRN provides families and caregivers support with child development, connection to social supports and resources, and offers strategies for coping and problem-solving skills in order to build resilience and success within families and communities.
The MFRN operates out of The Village, located in High Level and La Crete.
All services are free, voluntary, and confidential. The MFRN can provide support to families in-home, in community or with community partners.
Contact us at 780-926-4668 or by emailing info@thevillagefrn.ca.