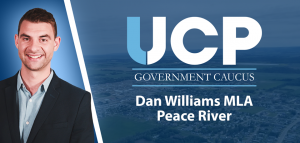 Dan Williams (UCP) – MLA for Peace River
Dan Williams (UCP) – MLA for Peace River
Constituency Office
10013-101 Avenue
PO Box 2793
La Crete, AB
T0H 2H0
Dan Williams is our Provincial Representative (MEMBER OF LEGISLATIVE ASSEMBLY (MLA) - Peace River)
For Biography, etc. follow Website Link above.

Email: Peace.River@assembly.ab.ca

Satellite Office
PO Box 6299
#2 Riverdrive Mall
10122-100 Street
Peace River, AB
Phone: 780.624.5400

Peace River Constituency Office Hours:
Tuesday - Thursday 9:00 AM - 12:00 PM & 12:30 PM - 4:00 PM

Legislature Office
9820-107 Street 6th Floor
Edmonton, AB
T5K 1E7
Phone: 780.638.3019
Fax: 780.638.3506

*If your call to your MLA is long distance, please dial 310.0000 then the area code and the phone number you would like to reach in order to receive toll free access.