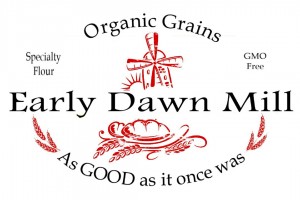 Early Dawn Mills
Early Dawn Mills
John Zacharias: 780.841.4741
16573 HWY 697
Box 1295
La Crete, AB
T0H 2H0
NEW OWNER OWNERSHIP/MANAGEMENT:

LOCAL ORGANIC GRAINS "As GOOD as it once was"
- Whole Wheat (White) Flour, Bran
- Specialty Flour
- GMO Free
Roblin - Alvena - Red Fife

Available at:
La Crete Co-op, Buffalo Head Prairie Co-op & Bluehills General Store

Early Dawn Mills was founded by Bob and Susan Nickel. Having struggled with diabetes for over a decade it made sense to find a healthier way of living. Finding that there were very few alternatives to conventional flour, the mill was founded not only for ourselves but for others as well. The flour is 100% certified organic and GMO free collected from our local farmers. All the flour is freshly milled using stone ground mills to produce the wonderful soft fine ground flours.
Our Flour contains very little gluten, making it a great option for gluten intolerance and other allergies.

Customers have reported amazing results after switching to Early Dawn Mills Flour.