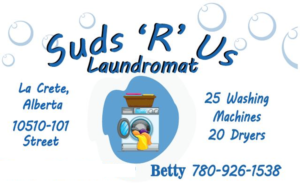 Suds R' Us Laundromat Ltd.
Suds R' Us Laundromat Ltd.
Betty Peters: 780.926.1538
10510-101 Street
Box 1000
La Crete, AB
T0H 2H0

Located Behind La Crete Co-op & Beside La Crete Bottle Depot
Change Machine
Vending Machine
Video Surveillance Cameras
Automatic Open/Close Door & Lighting

All machines checked over, fixed and serviced.
Will be adding more big washers and dryers.
We want you to have a good experience at our laundromat
If anything isn't working please let us know.

For your convenience we have Extra Large Capacity Washing Machines.
PERFECT FOR SLEEPING BAGS, QUILTS, HOCKEY EQUIPMENT, ETC.
23 - Washing Machines
15 - Dryers

Call to inquire about current rental residential properties!

Offering 1-3 bedroom apartment rentals in the heart of La Crete.

Also offering additional rental properties.
- 2 bedroom duplex's
- 3 bedroom trailers

Give Betty a text/call for current available rentals!